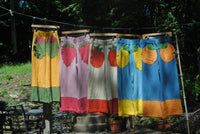 Linen Juicy Pants
Wide leg linen pants with an elastic waist and large funky pockets. Comes in five fruits: tomatoes, oranges, lemons, olives, and strawberries.
Shop them here!
Leisure Top
Made from secondhand fabrics, buttons and trims, each top is unique! Wide, cropped, button down perfect for covering sun-kissed shoulders.
Shop them here!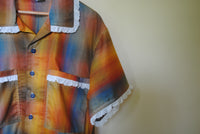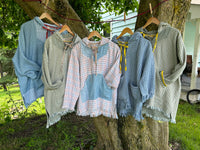 Baloney Blankets
Upcycled hoodies from secondhand tablecloths, quilts, and blankets. Always pockets, always comfortable.
Shop them here!